Location & Hours
719 W Main St
Atlanta, TX 75551
| | |
| --- | --- |
| M, W, Th, F: | 8:00am - 5:00pm |
| Tuesday: | 8:00am - 6:00pm |
Get Directions
Technology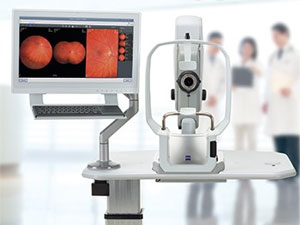 Zeiss Clarus 500
The Zeiss Clarus 500 allows our clinic to capture extremely clear and full field views of the internal eye. The instrument is an ultra-widefield camera that captures high resolution images down to 7 microns.
What this means for our patients is that we are able to document and observe all manner of ocular disease and track subtle changes in pathology over time. In addition, it also captures detailed fundus auto-florescence images and external structures as well.
Often these capabilities are enjoyed without having to dilate our patients allowing comprehensive eye care with little to no inconvenience.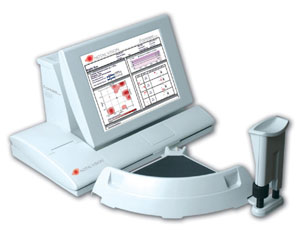 Testing to Monitor Macular Degeneration
In keeping up with the latest technological advances and in striving to deliver better patient care, we are very excited to offer AMD monitoring with the "Foresee PHP™" device. The Foresee PHP offers a quick, painless test and provides information that is used to monitor patients with "dry" rnacular degeneration. The device is very helpful in assisting our ophthalmologists with catching this disease right upon conversion to the rapidly-progressing, vision-threatening "wet" form of the disease, before irreversible vision loss occurs.
A major reason for the devastating effects of macular degeneration has been a lack of effective monitoring tools to detect the conversion from dry to wet macular degeneration. Reliance on older, outdated technologies often results in diagnosis that is too late - after the disease has been wet for enough time that retinal damage and vision loss have already occurred.
Treatment for wet macular degeneration works best early on, right when the disease converts to its wet form. If you have been diagnosed with macular degeneration, call to schedule a Doctor consultation to determine if you are a candidate for testing with the Foresee PHP.
For further information click on the links below: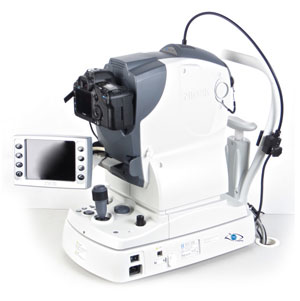 Nidek Fundus Camera AFC-230
Family Eye Care Clinic provides the innovative AFC-230 extremely high resolution non-mydriatic digital fundus camera. The 21.1 mega pixel image ensures that a wide range of ocular conditions can be comprehensively observed such as diabetic retinopathy, macular degeneration, glaucoma, and other retinal anomalies.
The system offers retinal photography with no need for dilation in most cases. Very minimum flash exposure is needed so patient discomfort is minimized. This imaging capability allows our doctors to rapidly identify and monitor visually threatening eye conditions.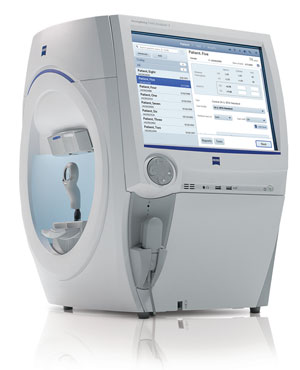 Humphrey Visual Field Analyzer
Our visual field tester is recognized as the standard of care for the early detection, treatment and management of ocular conditions that result in visual field loss. This latest generation field analyzer with its advanced software, decreased test times, handicap accessibility and early detection strategies allow our doctors to practice therapeutic optometry to its fullest scope.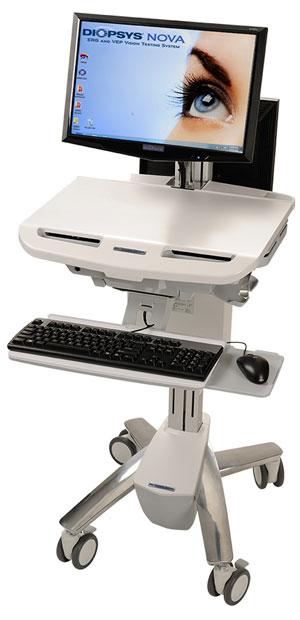 Diopsys Nova Visual Evoked Potential (VEP)
Visual Evoked Potential tests the entire visual pathway from the cornea to the visual cortex located in the occipital lobe of the brain. The instrument has the ability to pick up cell damage at all points of the visual pathway long before functional changes become apparent or before they appear in the structure of the retina.
This test is 100% objective meaning there is no patient response required. The VEP is used by the doctors of Family Eye Care Clinic for the early detection of Glaucoma, Optic Nerve Disorders, Visual Pathway Disorders, MS, Amblyopia, and any unexplained visual disturbance.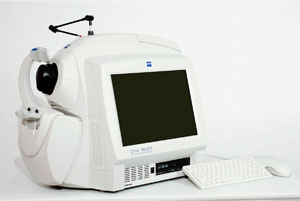 Optical Coherence Tomography Scanner (HD-OCT) with Spectral Domain Technology
The Cirrus HD-OCT uses light waves to create dramatic and detailed images of the inside of the eye. Dynamic information provided by this instrument produces views of the eye never seen before and not possible by other technologies. The OCT scanner is a non-contact and non-invasive way to determine earlier detection of eye problems and to ultimately better preserve vision.
There is no exposure to painful high-intensity light and no injections or dyes required, so patients are comfortable and safe.
Using the scanning abilities of this instrument enables the doctors of Family Eye Care Clinic to more specifically diagnose, treat and manage glaucoma and retinal diseases, including diabetic retinopathy, macular edema and macula degeneration. A macular scan by the Cirrus HD-OCT is part of the required testing for patients taking Plaquenil with the new 2011 guidelines set by the AAO.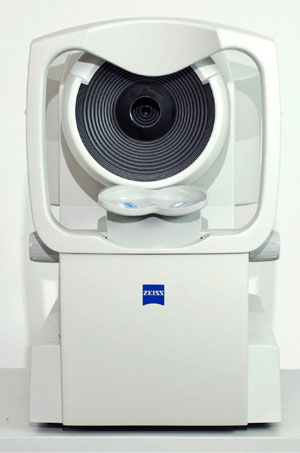 Humphrey Corneal Topography System with Master Vue Software
Our office has the most advanced corneal topography system available. This device projects a series of light rings onto the cornea of the eye and then captures the reflections on a video camera. The results is a detailed three dimensional topographical map of the cornea.
This information is vital to the preoperative and postoperative refractive surgery candidate, to the design of complex soft and rigid gas permeable contact lenses and is used in the diagnosis of corneal disease and curvature abnormalities.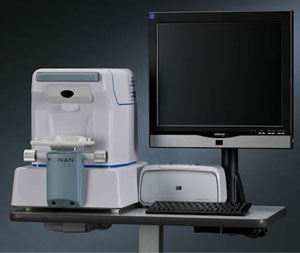 Iconan Specular Microscope
Leading the field in contact lens fitting and evaluations, our office evaluates the endothelial cell layer of the cornea on all our contact lens patients. This instrument allows our doctors to assess the inner layer of each patient's cornea which can become damaged/impaired from continual wear of contact lenses. This instrument is also used to evaluate corneal diseases such as Fuch's dystrophy which can lead to severe dry eye and discomfort.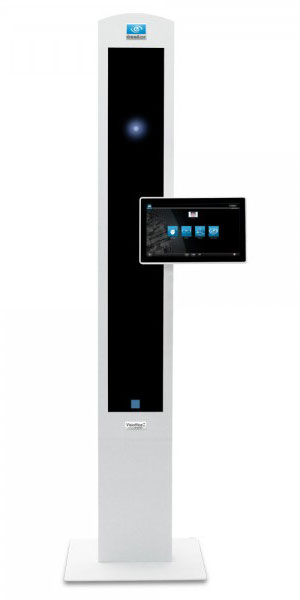 Essilor Visioffice
The Essilor Visioffice allows our office to provide the most precise prescription eyewear fit available. Are your a head turner or an eye turner?
The Visioffice takes over 20 measurements and will adjust each patient's personal glasses prescription depending on their eye movements in the new frame they have selected. This system offers the most individualized fit of Varilux progressive lenses possible.
The newest lenses now available from Essilor (The Varilux S series) are only available to eye care providers with a Visioffice in their optical.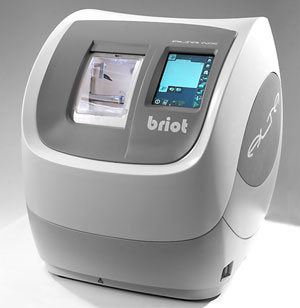 Briot Accura Lens Fabrication System
Our office contains a fully equipped optical lab to ensure that eyewear is produced at the absolute highest quality with both affordable rates and very little waiting for our clientele's convenience. This system utilizes the very latest innovations in eyeglass technology and allows our optical lab to provide the most advanced eyewear materials and surface treatments available today.